INTERNET COMPLETE!, INC.
Technical Support
Windows 95/98 includes all of the necessary components for you to get connected with Internet Complete!, Inc..

These instructions can be used to setup a new connection, or to ensure that your current connection is configured properly.
If you have any questions, please email support@icnet.net or call us at 405-858-8637.

Requirements:
Windows 95/98 must be installed on your system.
The Windows 95/98 installation CD.
An account with Internet Complete.
Your username and password.
The Internet Complete dial-up number: 415-2700
We also have this document available in Adobe PDF format (Click here to download). If you do not have Acrobat Reader, you can download it here.
Windows 95/98 Dial Up Networking Setup Instructions
Begin by going to the control panel by clicking Start > Settings > Control Panel. Double click on the Add/Remove Programs icon.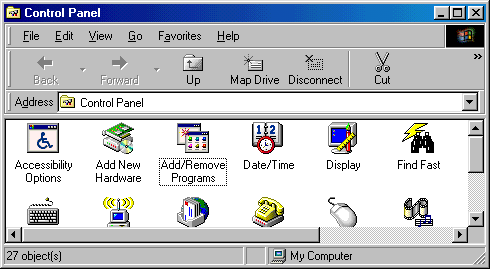 Next, click the Windows Setup Tab. Then double click the Communications tab.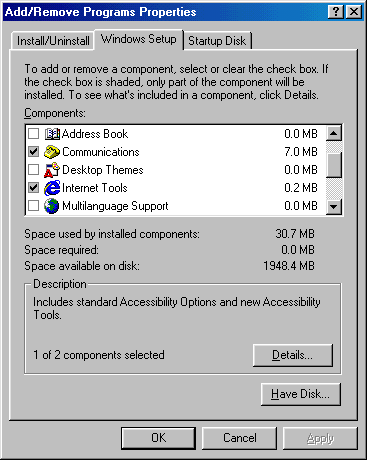 Check the Dial Up Networking Box.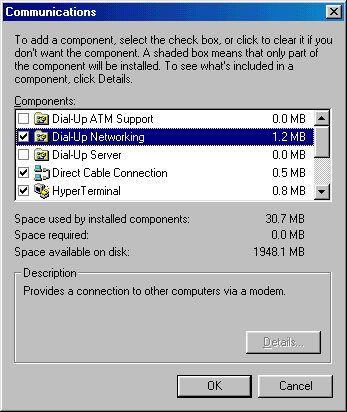 Click OK at the bottom, and OK again to leave Add/Remove Programs. Windows will now install copy files from your Windows CD. When completed, you will be prompted to reboot your machine, do so now.
If you have already installed The Internet Complete! dial up connection, and you are certain that you have TCP/IP, you may double click on the Internet Complete! icon located in your Dial Up Networking folder. Enter your username and password, and click connect.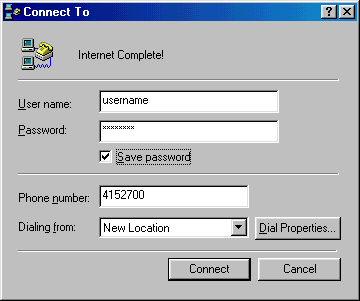 If you have not yet created your dial up connection, or have not installed TCP/IP, you may follow these links below for instructions.
TCP/IP Installation
Internet Complete Dial Up Connection